Welcome to the page of the Società Italiana per la Salute Mentale Perinatale, Italian Regional Group of the International Marcé Society.
To visit our website, please click here (www.marcesociety.it)
You can download here the flyer.
Congresso Nazionale con Ospiti Internazionali (National Congress with International Guests), Padova
Click here to view the program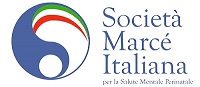 Società Marcé Italiana per la salute Mentale Perinatale
E' una associazione scientifico-culturale no profit, che sposa i principi della Marcé Society International, associazione dedicata a sensibilizzare e sostenere la ricerca e l'assistenza alle mamme con problematiche di salute mentale, ai papà ed ai loro bambini, nel periodo pre e post-natale.
Tale impegno locale si concretizza attraverso iniziative di sensibilizzazione e di divulgazione scientifica rivolte agli operatori sanitari, socio-sanitari, ai docenti universitari e ricercatori, ma anche organizzando eventi formativi nonché incontri dedicati alla popolazione.
Lo scopo primario è quello di migliorare anche in Italia le attuali modalità di prevenzione, di diagnosi, assistenza e di cura dirette donne gravide, alle mamme e alle loro famiglie con problematiche psicologiche e psichiatriche perinatali.
La sezione Italiana della Marcé Society International è stata fondata il 12 dicembre 2015 a Milano dalla Dr.ssa Alessandra Bramante e dal Dr. Pietro Grussu, sostenuti e ispirati dalla collaborazione scientifica con il Prof. Ian Brockington e con la Prof.ssa Jeannette Milgrom.
La Società Marcé Italiana per la Salute Mentale Perinatale, dopo il Primo Congresso Nazionale tenutosi nel 2016 a Milano, proseguirà organizzando a cadenza biennale i propri congressi nazionali. Annualmente, invece, sono previste giornate di formazione e percorsi formativi itineranti su tematiche inerenti la salute mentale perinatale.
Per informazioni scrivere a: info@marcesociety.it
President: Alessandra Bramante
Vice President: Pietro Grussu
Secretary: Rosa Maria Quatraro
Treasurer: Viviana Lamarra
Councilor: Cesario Bellantuono
Councilor: Elena Paschetta